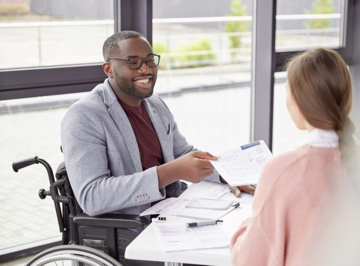 Entrepreneurship: Generating Opportunities
for Families Living with Disabilities
by Ashley Taylor
Entrepreneurship is a popular investment for many of America's more than 48 million disabled people. Inaccessibility, employer misunderstanding and workplace misconceptions have traditionally created barriers for disabled job seekers. Business ownership, conversely, encourages people to maximize their skills and launch ventures where physical limitations are not a bar to success. In fact, self-employment is a more popular choice among people living with disabilities than the non-disabled population. According to the Small Business Administration,14.3 percent of disabled people have launched a business, compared to 12.2 percent of the general population.
If you're contemplating starting a small business, consider your passions, strengths and experiences. When you find a good fit, be sure it is well-suited to your needs, physical restrictions and family obligations. Technology is opening new ventures for disabled entrepreneurs, and it can help people living with disabilities adapt to small business ownership. Some technology helps people with limited use of their hands use a standard keyboard, while others can control a computer by pressing keys with a pointing device. Eye gaze technology is also becoming available. This is an assistive device that helps people choose options using their corneas.
In the United States, there are several conventional and non-conventional sources of funding for disabled business owners. Accion provides small business loans in amounts up to $100,000. The PASS (Plan to Achieve Self-Support) program allows SSI recipients to launch a business while they work, saving and then using their SSI payments to fund a startup company.
Disabled entrepreneurs can seek small business loans, bank loans and use credit cards to finance a startup, or seek alternative sources of funding, such as crowdsourcing. A micro loan can be a good option for people who lack credit and are having difficulty securing a traditional bank loan. The Disabled Veterans Assistance Foundation is one organization that provides micro loans to service-disabled veterans.
Whether you are delivering goods or need a van that can accommodate a wheelchair or other assistive devices, a reliable business vehicle can be an important asset. In addition, startup companies can garner attention and generate word-of-mouth with a "branded" car that stands out in traffic. There are hundreds of options to choose from on sites like Gumtree. Vehicles come in many sizes with a vast range of features. Take time to compare vehicle options, whether investing in a car, truck or van to make sure you are purchasing the right features within a sustainable budget.
Maintaining a healthy work-life balance when getting a new business off the ground can be difficult. Entrepreneurship requires long hours making sure your company is positioned for growth, servicing clients and finding new ones. Be prepared to ask friends and family for help with some of your personal responsibilities until your business venture is on more stable ground. In the meantime, you can help keep your work-life balance from going off the rails by establishing communication ground rules.
Once your official workday is done, wait until tomorrow to answer work emails and turn off your smartphone, especially when it's time for your family commitments. You want to be totally present in body and mind when spending time with family. If you have employees, learn to delegate some of the less pressing business tasks. If you are working from home, see if there are ways to involve the family and create a sense of pride of ownership in your venture.
Starting a new business is hard work, and achieving long-term success takes drive and determination. Be patient and don't get discouraged if things don't go exactly as planned in the early stages. Consistent effort and faith in your business plan are the keys to long-term success.