At UCP Heartland, our mission is to advance the productivity, independence, and inclusion of children and adults living with a spectrum of disabilities including Autism, Cerebral Palsy, Down Syndrome, Traumatic Brain Injury, and other intellectual and developmental disabilities.
We provide expert care in these key areas: Adult Day Services, Employment Resource Services, Family and Services Navigator, Residential Services, Respite Services, Summer Camp, and Early Childhood Development.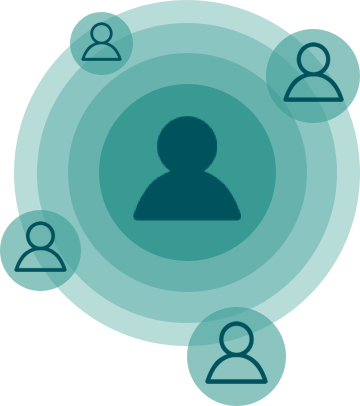 The Centers for Disease Control and Prevention estimates that one in four Americans is currently living with a disability, making people with disabilities the single largest minority or special interest group in the United States. As life expectancies expand, the CDC predicts that in the coming decades an even greater percentage of people will be living with disabilities.
UCP Heartland was founded in 1953 by a group of concerned parents and volunteers, who wanted to provide a higher quality of life for family members and friends living with disabilities. The primary focus during the early stages of the organization was to provide support to families and provide leisure services to children and adults with cerebral palsy. Over the years, due to changing needs within the disability community, we expanded our focus to serve people with a spectrum of disabilities including autism, cerebral palsy, Down Syndrome, traumatic brain injury and other intellectual and developmental disabilities. We have grown to meet the needs of individual with disabilities in a changing world. In 2008, UCP acquired another nonprofit agency, expanding our service geography to include Columbia and Jefferson City, Missouri.
Today, we provide programs and support in these key areas:
• Adult Day Services
• Child Development
• Camps
• Employment Resources
• Independent Living Support
• Respite Services
• Services Navigator
We are proud of our reputation to serve the most vulnerable. People living with disabilities are living longer today than in 1953. We are committed to provide the supports necessary for a successful, happy meaningful life to our clients, their families and their surrounding community. As our founders had hoped, UCP continues to change the way the world sees people with disabilities. Our communities become rich with diversity as we incorporate our clients into every facet of society.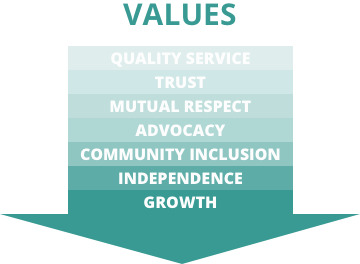 UCP Heartland's Values in Action
Every individual who works on behalf of UCP Heartland plays a vital role in upholding the highest ethical and moral standards and in fully complying with all state and federal laws, regulations and agency policies. We are committed to the development of a professional work environment characterized by integrity, customer service, clarity and honesty.
UCP Heartland's Core Values
• Mutual Respect – We are sensitive to and exercise thoughtful consideration of the needs of our clients, staff and families.
• Trust – We don't pass judgement on issues that are not pertinent to us. We will support each other.
• Honesty – We work honestly with others and expect the same from all vendors and partners
• Diversity – We value, recognize and encourage participation by individuals of divers ethnic, racial, gender, religious, disability and age grouping within our work force, Board of Directors and program participants.
• Conciliation – We behave in a spirit of compromise and agreement. We listen to and respect other's opinions and are open to constructive discussion. We respect and support final decisions made even when we disagree.