Success in our Employment Program:
Auni Choudhury participated in the Summer Work Experience program through Missouri Vocational Rehabilitation and UCP Heartland. He worked at the Capital Plaza Hotel for the 6-week summer program. The last week of the program, the hotel management asked him to fill out an application so they could officially offer a permanent position working in the laundry and banquets department. Congratulations Auni on your first job and thank you Capital Plaza for your partnership this summer!!
Success at our Child Development Center: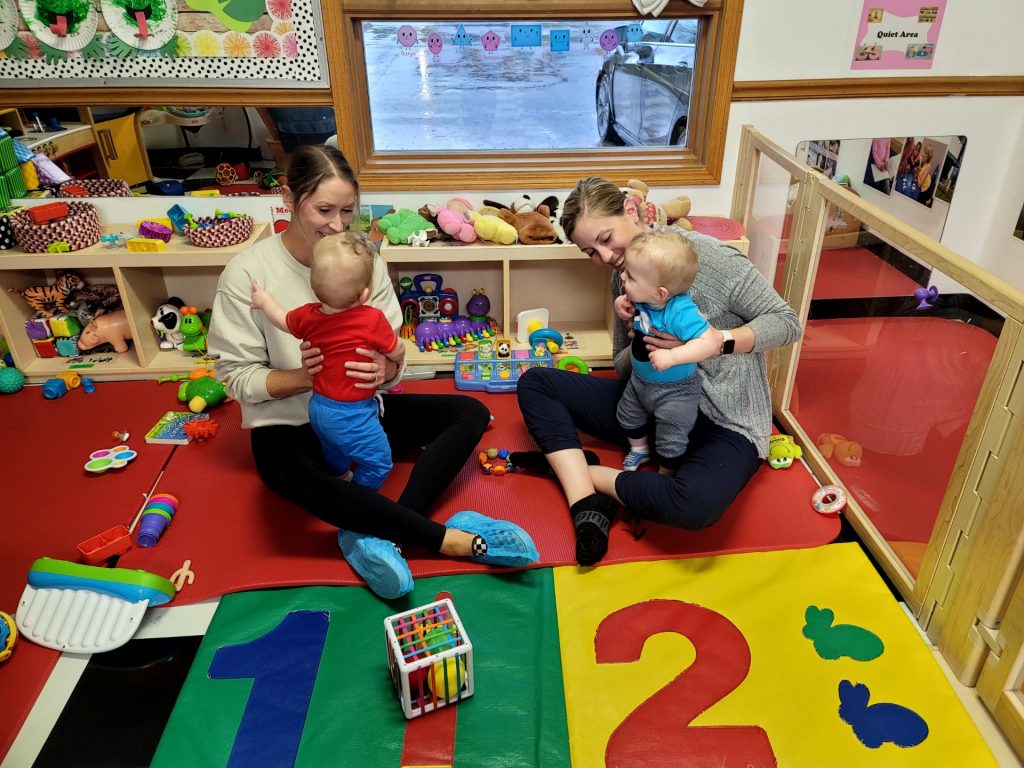 Pictured are a set of twins that started at our Child Development Center in Columbia, MO, in September 2021. Once we completed our assessments and observations, we had some concerns. So, we referred them to First Steps. First Steps gladly came to our facility and completed their assessments. Both boys qualified for intervention services. In the beginning, First Steps provided therapy weekly. With our teachers and First Steps working together they are now only receiving therapy once a month. Early detection and intervention is the Key!!!!!
Success with Physical Therapy: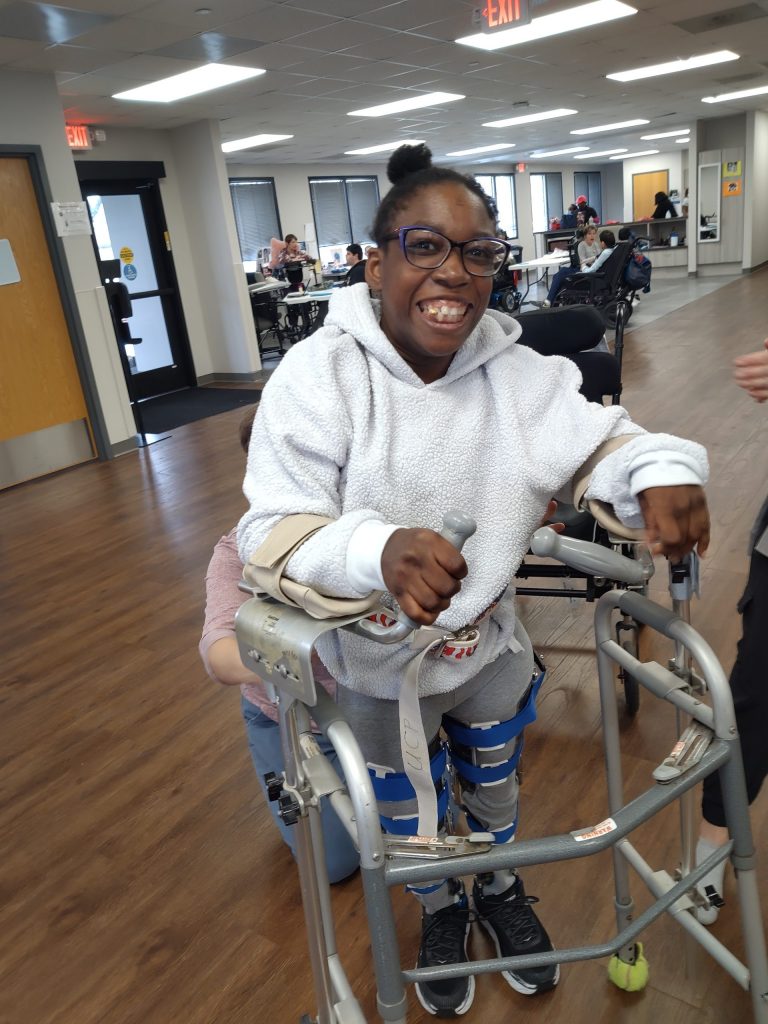 With the help of Therapy Relief at Hope and Hanger Clinic: Prosthetics and Orthotics, Sheila was able to stand independent of staff support for over 30 seconds! This is a huge milestone for Sheila and another step towards her dream of walking again.
Fantastic work Sheila!
Success with Physical Therapy in the Adult Day Program: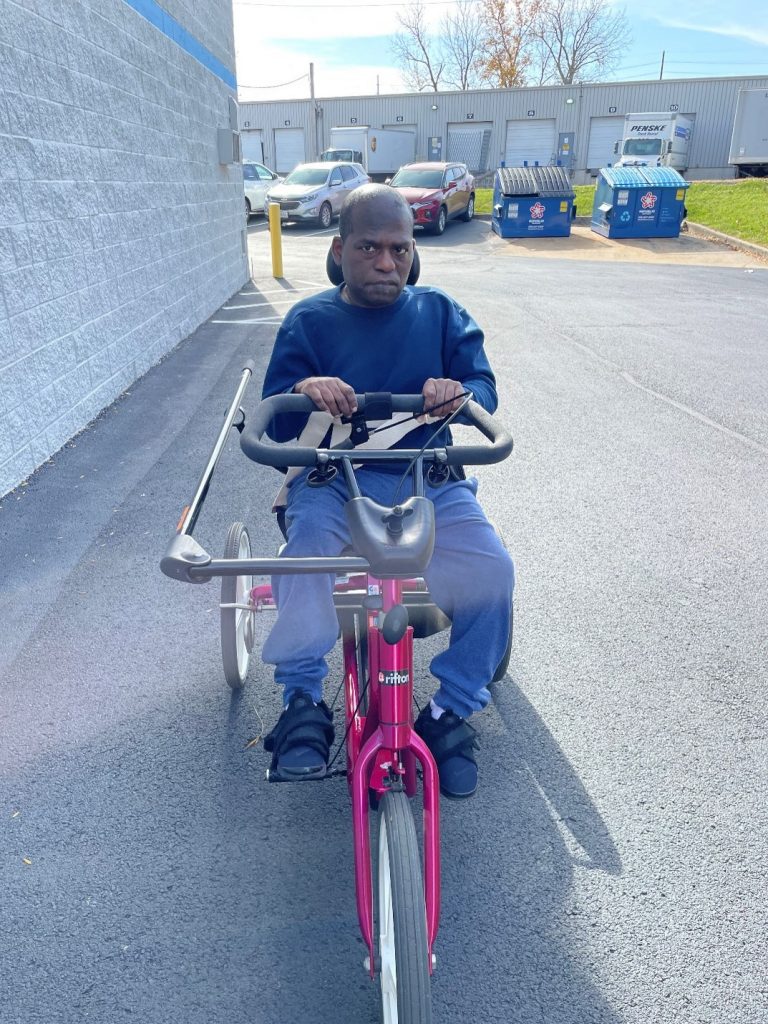 Vernon resumed PT services in June of 2021 after not receiving services since March of 2020 due to COVID-19. This was quite the adjustment for Vernon and his physical therapist, Julie. Vernon does not like walking in the gait trainer as he did in the past. Julie and Vernon tried the gait trainer for several months with minimal engagement from Vernon.
Vernon is non-verbal and is not able to communicate his wants and needs, but Julie was determined to find something that Vernon likes. So, she recently tried out the Rifton Adaptive Tricycle and he loves it! Vernon smiles and actively participates in his physical therapy now.
Keep up the great work Vernon!
Success in UCP Heartland Employment Resources Program: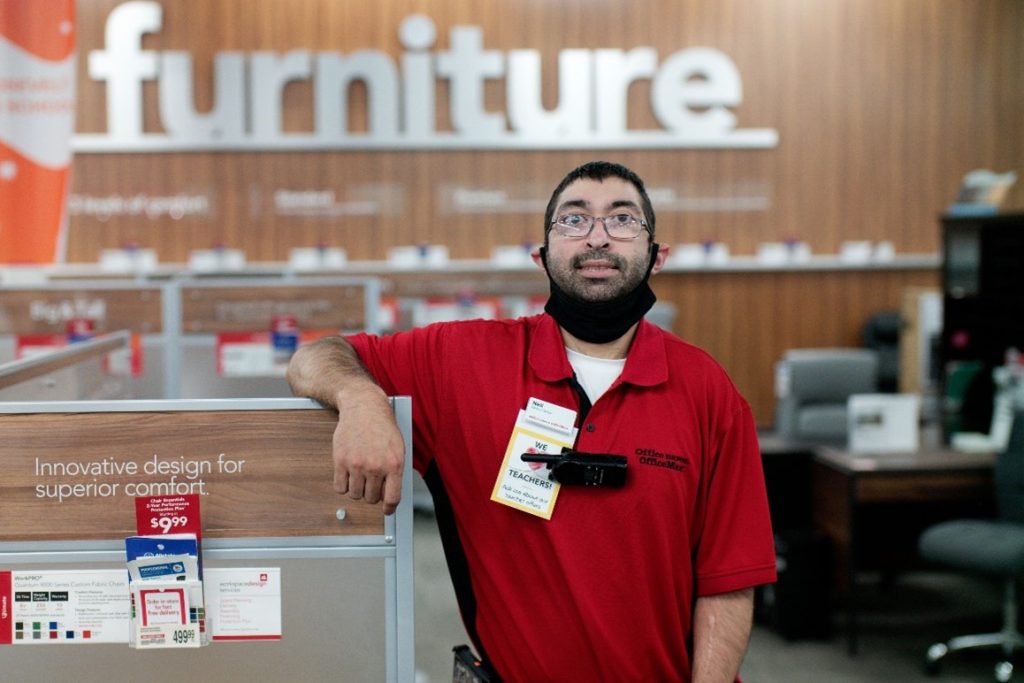 Neil has been working at Office Depot for a little over 90 days as a Sales Advisor. He works as a cashier and also on the sales floor assisting customers with finding products. This job was a great fit because his past job was at another electronics retail store and this job is much closer.
Neil doesn't let his Cerebral Palsy get in the way of him doing his job. He helps customers carry heavy items on a cart out to their cars. Neil utilizes Call-A-Ride and benefits from using assistive technology provided by Voc Rehab to connect his hearing aid to his walkie-talkie at work. Both the store's security guard and Neil's supervisor complimented him for being the hardest worker there.
Keep up the great work Neil!
Success in UCP Heartland Employment Resources Program: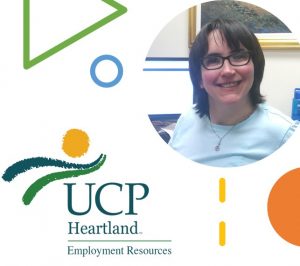 UPDATE:
"I LOVE my job and do it well. I always finish my tasks on time. I have my own desk and I work on a computer, which I really enjoy. My team member are great and so is the supervisor." ~Caitlin
"Caitlin is very positive at work. She is always willing to help others with anything that we asked of her. Caitlin asks great questions and is very attentive to details. We are grateful to have her on the team." ~Claire, Caitlin's supervisor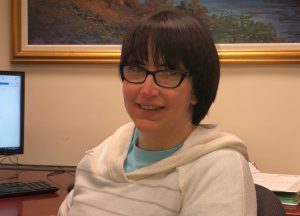 Meet Caitlin – She participates in the UCP Heartland Employment Resources Program.  Caitlin had been pursuing employment with other providers, but multiple and continued obstacles hampered her success. She came to UCP Heartland in March for help. The UCP Heartland Employment Resources team was able to identify Caitlin's skills and abilities that would support the achievement of her employment goals.  Working in an office setting either in a clerical position or an administrative assistant was her dream job.  Our team assisted Caitlin to further develop the social and professional skills necessary for successful employment.  Adaptations would need to be considered in the employment partner match.
After the discovery, exploration and development phases of our program, the plan was for UCP Employment Specialist, Jarred Gastreich, to visit her while she was volunteering at Bethesda.  Jarred spoke to her manager and the Vice President.  Both were in favor of hiring Caitlin, but the other executives had concerns.  Jarred explained Caitlin (and Bethesda) would benefit from a UCP Job Coach at her side as she learns new tasks and identifies appropriate adaptations.   He provided additional information needed for an employment decision to be made. Jared advocated for Caitlin highlighting her extraordinary work ethic and reliability as a volunteer for the last 10 years.  Jarred said, "Caitlin's smile lights up any room when she's in conversation. Her quality work is consistent, and she is very focused. She qualifies for competitive employment and UCP Heartland will get her a job somewhere and I'm sure we all prefer it's here."  Jarred reminded the employment partner that Caitlin would have a UCP Job Coach and the benefits to both Caitlin and Bethesda. She could take on more responsibilities as an employee, increasing departmental productivity.
In September, Caitlin began work officially as Data Entry Specialist. She already had a great relationship with her supervisor Pam, who knew her specific needs and unique communication style. Pam provides Caitlin excel sheets in extra-large print so she can read them more easily. Emily Whitaker has been her UCP Job Coach and reports that Caitlin now has her own office, has picked up new tasks and she even got the COVID vaccine last week.
Kudos to Bethesda. This was a customized position for Caitlin. It involved creativity, commitment, resources and faith.
Today, Caitlin needs job coaching less than 25% of her schedule.  UCP Heartland will continue to support her with employment retention services.  She enjoys her colleagues and the independence gained from successful employment.
Success in the Adult Day Program at UCP Heartland Gibbs Center for Independence: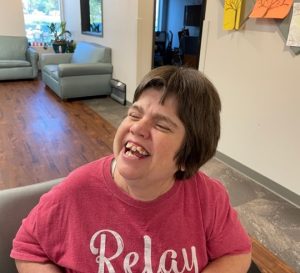 UPDATE:
We are happy to report that Kate is AMAZING! This picture is worth a thousand words!!😉 She continues to be very healthy and very happy. She is an extraordinary individual and we are so lucky to have her with us each day.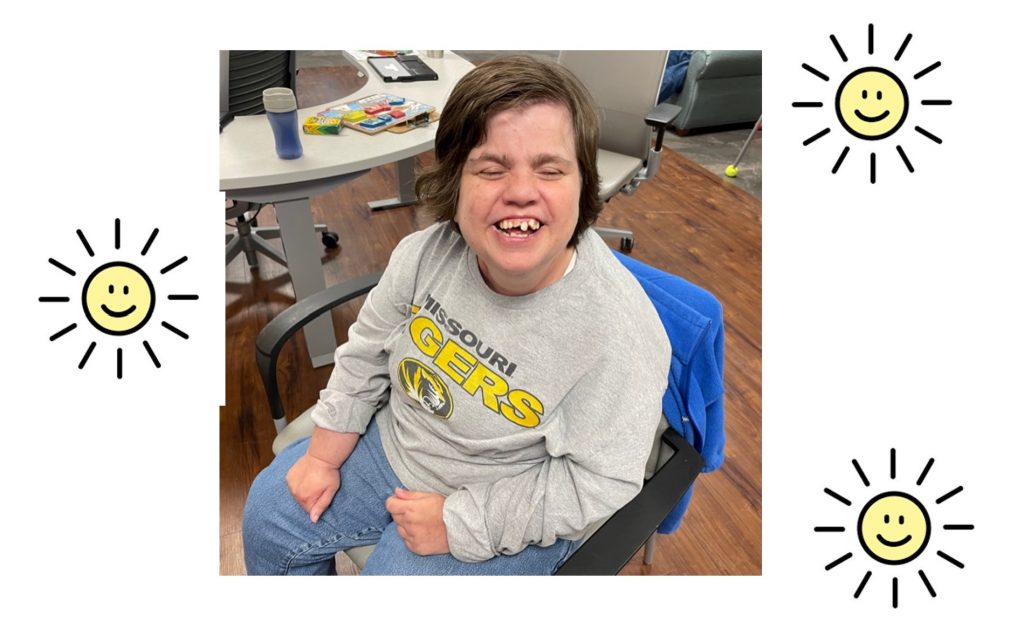 Meet Kate – She attends our program in Jefferson City, MO. She has many friends at the Gibbs Center and the ability to state most of her peers first names and last when asked.
Her affinity for classic country music is undeniable. She often enters a room stating, "I want to hear some singing". When given the first name of a classic country singer, Kate has an amazing ability to recite the last name of that singer.
She also loves the beach, and you can find her talking about it most anytime of the day. Kate has a beautiful vibrant spirit that fills any room with sunshine. Kate likes to ask everyone, "Are you smiling?", as she wears her bright smile every day.
In December of 2020, Kate tested positive for COVID-19 and was placed on a ventilator. This was devastating news to anyone who has the privilege of knowing and therefore loving her. Kate experienced complications and was unable to attend the Gibbs Center for several months. With an incredible family support system that was able to lift her up during this difficult time, Kate's remarkable inner spirit prevailed. Through courage and perseverance and a lot of hard work, she showed us all she is a (country) ROCK STAR!
Kate is strong! Kate is healthy! Kate is smiling! We are so grateful to have her back with us.
And yes………………………………. we are ALL smiling too.
Success in the Employment Resources Program: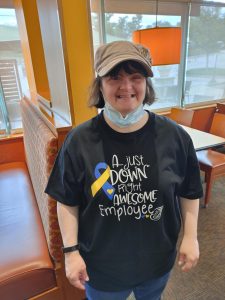 Sarah is just a down right awesome employee! Sarah is wearing a special shirt at her job at Bread Co. to promote down syndrome awareness month. Sarah is an important part of the team, making sure customers have fresh coffee to drink and a clean place to sit. Thanks for your hard work Sarah!
Success in the Employment Resources Program: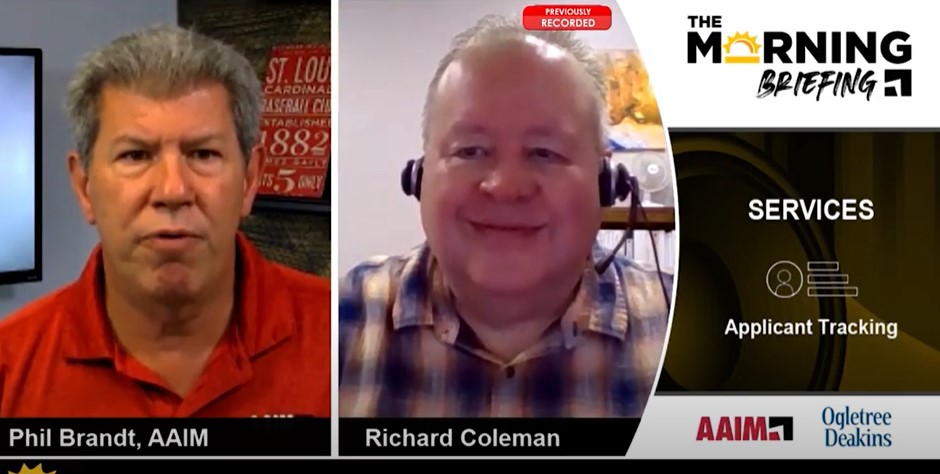 On August 19, UCP Heartland's Richard Coleman was the guest speaker on AAIMEA's broadcast. AAIM Employers' Association supports the development of an elite group of employers that deploys progressive and comprehensive talent management solutions. On their morning briefing broadcast, Richard spoke about hiring people with disabilities in the workplace, specifically in this tough environment.
To listen and watch Richard's conversation with AAIMEA's President & CEO Phil Brandt, visit: https://youtu.be/NaPiTqQkAmg.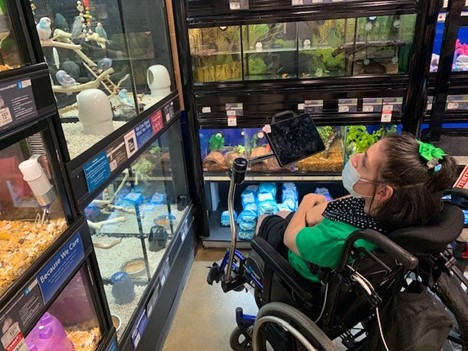 Meet Sheila – She is a charismatic individual who loves to socialize. Sheila has an absolute love of animals. She utilizes a communication device and she has become a pro at communicating exactly what she needs or what she would like to do. Sheila has mastered the art of communication in the past few years (way to go, Sheila!). You can find Sheila at UCP, watering the garden, exercising, completing arts and craft projects, helping keep the facility clean and going out into the community.
Sheila loves to visit pet stores and has a blue cockatiel of her own, named Angel. Sheila enters UCP each day with a smile larger than life, just like her personality. We are grateful for your presence at UCP, Sheila!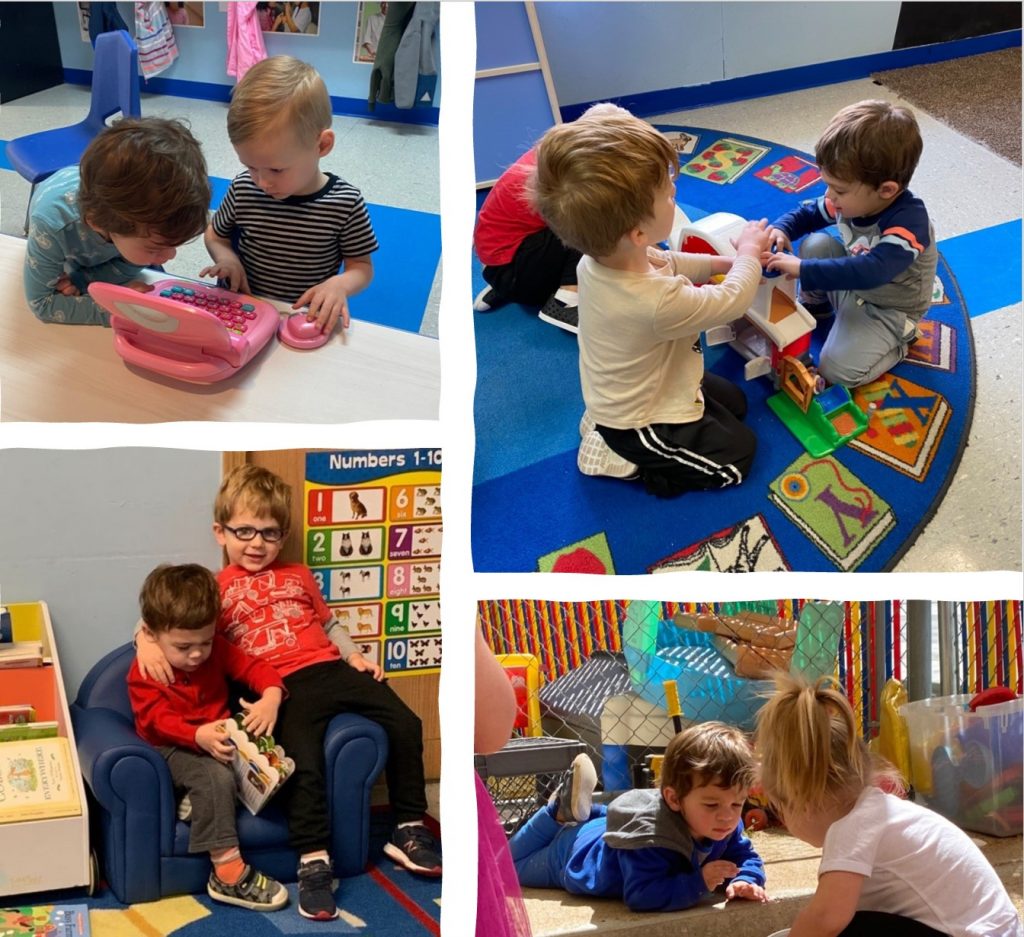 Charlie and his friends at UCP Heartland Child Development Center!
"When Charlie first started in the Blue Room at the Child Development Center last August, he did not have any verbal language. He had been staying exclusively with his Grandparents, so it was very scary for me to think about putting him into a classroom environment in which he would not be able to communicate if he was hungry, thirsty, or sad. I feared that he would be stressed or unhappy and that his delays in social interactions would mean that he would be all alone most of the time.
Instead, Charlie thrived at UCP Heartland Child Development Center and proved each of my fears wrong.
From the first day Charlie started in the Blue Room, he has loved coming to school. His teachers and classmates have become amazing cheerleaders for Charlie as he grows his verbal language skills. His classmates celebrate when he says their names and laugh joyfully when he makes animal sounds. Charlie also made a friend in his classroom who has since aged up to the Yellow Room. Charlie's teachers and the teachers of his friend make space for Charlie to visit with his friend whenever possible, encouraging his social skills.
What matters most to me is that Charlie learns to love school. UCP Heartland has provided an amazing and positive introduction to school for Charlie. Even if he is feeling tired in the morning, he has never once refused to get in the car or cried about going to school. I am so grateful for not only giving Charlie a nurturing and supportive first experience in the classroom, but your teachers also encouraging him to join in activities that stretch him and allowing his therapists to support him while at school.
I am so pleased that we decided to begin Charlie's school journey at UCP." ~Charlie's Mom
Success with Physical Therapy in the Adult Day Program: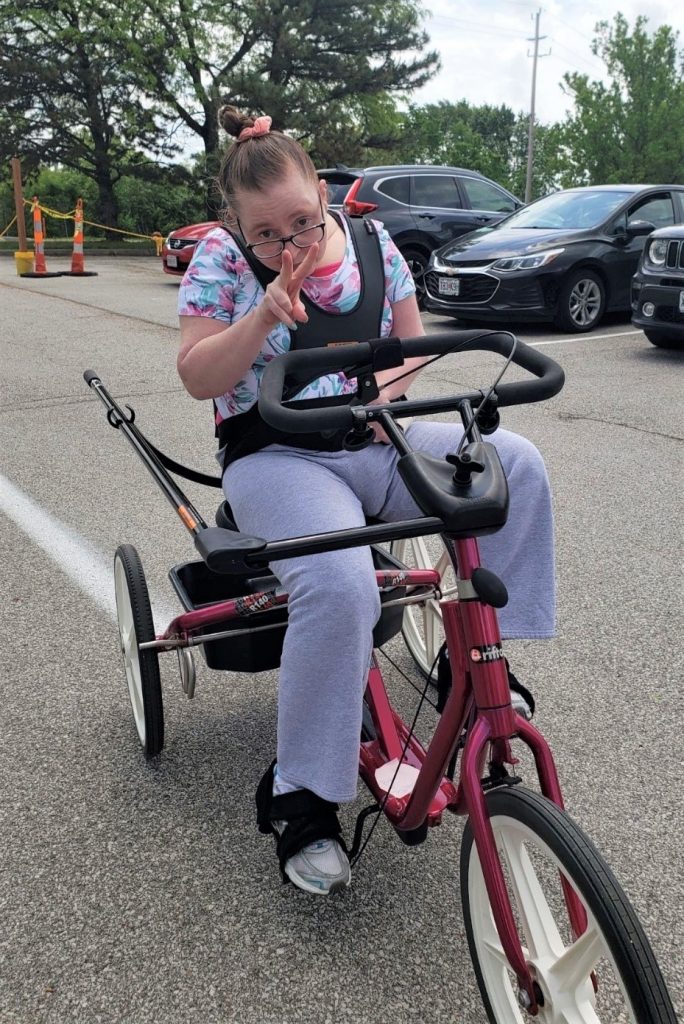 After 15 months of not receiving therapies, Nichole, a client in our Adult Day Program is excited that Julie, the Physical Therapist, is back. Nichole enjoys freedom of movement as we all do when riding a bike. Go Nichole!
Physical therapy is an important component of orthopedic treatment. Physical therapy provides a variety of benefits, including reduced pain, improved function, increased range of motion, proper alignment and more. Therapists are trained to identify deficiencies in the biomechanics of the body. By targeting specific areas of weakness or improper alignment, clients like Nichole, find physical therapy to be educational. It is an opportunity to learn about their own body.
At UCP Heartland, our physical therapist, Julie, is a skilled specialist educated in appropriate rehabilitation methods. She is knowledgeable and works closely with primary care physicians and our on-staff registered nurse to best develop individualized rehabilitation programs. Nichole and others are so happy to see Julie's return to our Adult Day Program.
Success in the Residential Services Program: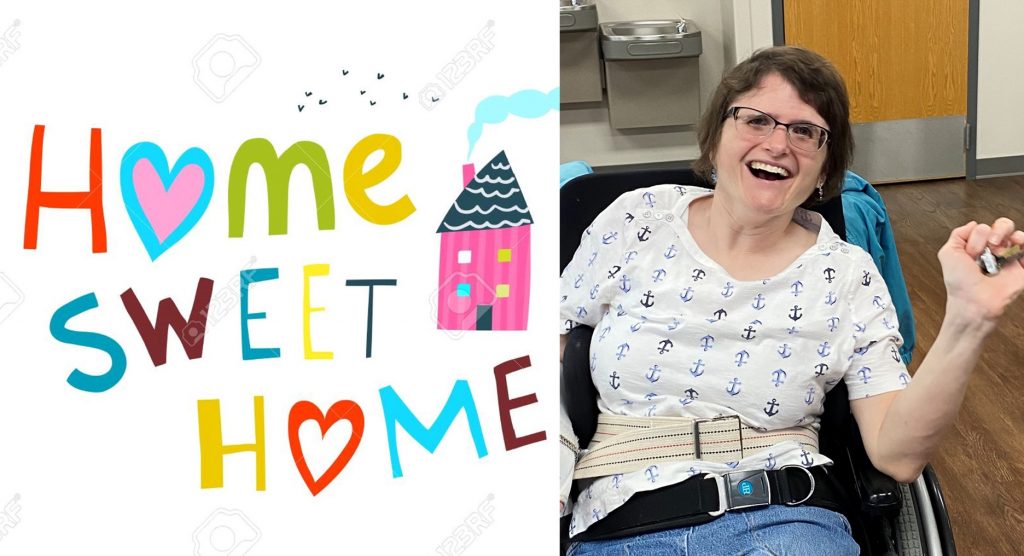 At 47 years young, Kristin signed a lease to move into her first home. She was very eager to hold the keys and asked to have her picture taken. We share in her excitement for this next chapter. Congrats Kristin!
UCP Heartland Residential Services Program – Independent Living Empowers People with Disabilities.
The Centers for Disease Control and Prevention estimates 1 in 7 Americans has a developmental disability. Friends, families, coworkers and/or neighbors are caring for a loved one with a disability. This is a huge emotional and financial responsibility for families.
UCP Heartland Residential Services Program provides the opportunity for adults like Kristin, to live in their own home or with a roommate, advancing their independence, productivity, quality of life and inclusion in their community.
Program participants (or clients) want dignity, respect, security, and opportunities just like anyone else. Our program is an independent living philosophy. We believe every individual has the right to affordable housing and the support necessary to live a life with meaning and purpose as independently as possible.
Kristin has attended UCP Heartland Adult Day Program for several years. After gaining trust and confidence in UCP Heartland, Kristin and her family decided to move forward with selecting a roommate, finding a home, and are looking forward to the independence gained for this amazing woman.
Moving into a new house is synonymous to starting a new life. Embrace the new scent of success & leave all your worries behind. May blessings and happiness shower in your new house! Congratulations!
Success in the Adult Day Program: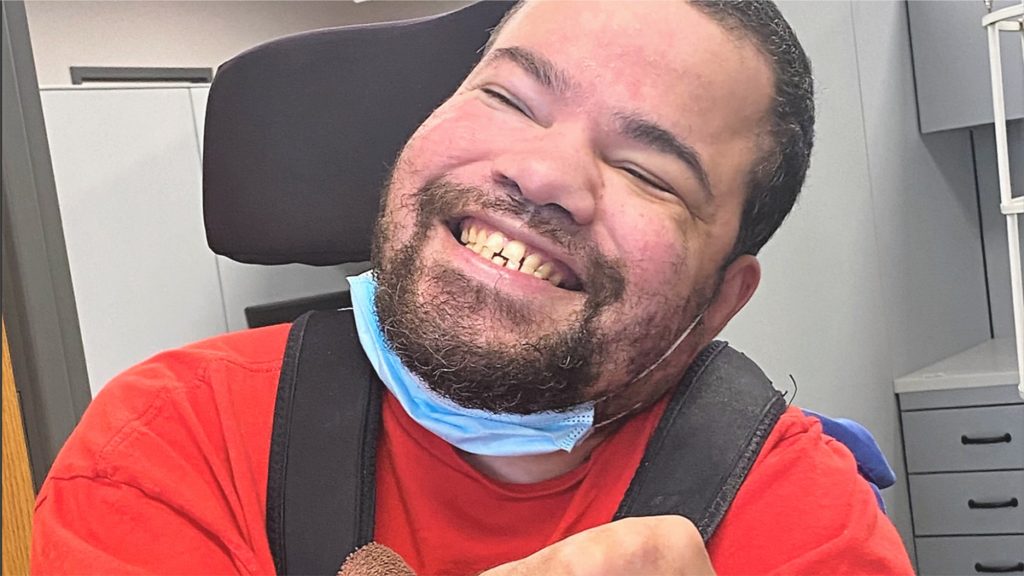 Meet Vincent – He attends our Adult Day program. Vincent is a social guy who has sorely missed hallway visits and high-fives to friends because of social distancing. He is so happy to be able get out and about chatting with all of us at UCP Heartland and in the community. Isn't this one of the best morning greetings you could imagine?