Mission:
To provide children and adults living with differing abilities the extraordinary care and support they need to thrive in school, at home, at work and in the community.
Description:
Steadfast in our commitment to educate, advocate and provide support services, our clients and their families are empowered to live life filled with meaning and purpose. We pledge to advance diversity, equity, and inclusion to enact real change for a better tomorrow.  Our quality programs available in the St. Louis metro area and across central Missouri include: Adult Day Services, Early Childhood Development, Employment Resources, Services Navigator, Residential Support Services, Respite, and Youth Camps.
Success in the Adult Day Program at UCP Heartland Gibbs Center for Independence: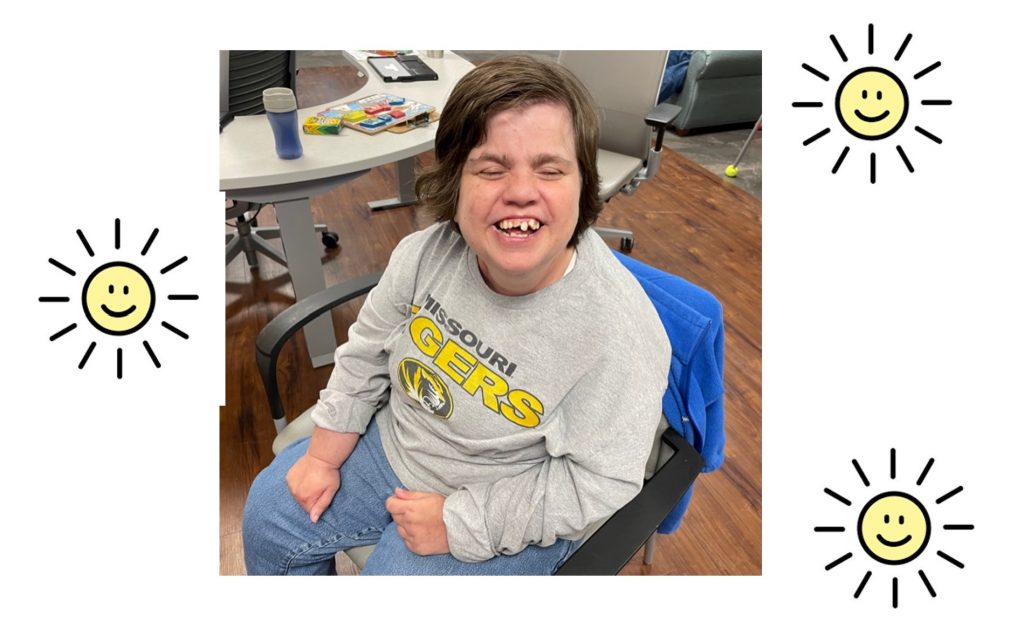 Meet Kate – She attends our program in Jefferson City, MO. She has many friends at the Gibbs Center and the ability to state most of her peers first names and last when asked.
Her affinity for classic country music is undeniable. She often enters a room stating, "I want to hear some singing". When given the first name of a classic country singer, Kate has an amazing ability to recite the last name of that singer.
She also loves the beach, and you can find her talking about it most anytime of the day. Kate has a beautiful vibrant spirit that fills any room with sunshine. Kate likes to ask everyone, "Are you smiling?", as she wears her bright smile every day.
In December of 2020, Kate tested positive for COVID-19 and was placed on a ventilator. This was devastating news to anyone who has the privilege of knowing and therefore loving her. Kate experienced complications and was unable to attend the Gibbs Center for several months. With an incredible family support system that was able to lift her up during this difficult time, Kate's remarkable inner spirit prevailed. Through courage and perseverance and a lot of hard work, she showed us all she is a (country) ROCK STAR!
Kate is strong! Kate is healthy! Kate is smiling! We are so grateful to have her back with us.
And yes………………………………. we are ALL smiling too.
Success in UCP Heartland Employment Resources Program: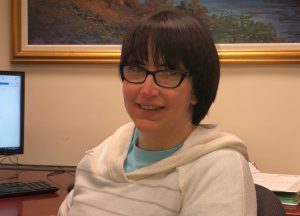 Meet Caitlin – She participates in the UCP Heartland Employment Resources Program.  Caitlin had been pursuing employment with other providers, but multiple and continued obstacles hampered her success. She came to UCP Heartland in March for help. The UCP Heartland Employment Resources team was able to identify Caitlin's skills and abilities that would support the achievement of her employment goals.  Working in an office setting either in a clerical position or an administrative assistant was her dream job.  Our team assisted Caitlin to further develop the social and professional skills necessary for successful employment.  Adaptations would need to be considered in the employment partner match.
After the discovery, exploration and development phases of our program, the plan was for UCP Employment Specialist, Jarred Gastreich, to visit her while she was volunteering at Bethesda.  Jarred spoke to her manager and the Vice President.  Both were in favor of hiring Caitlin, but the other executives had concerns.  Jarred explained Caitlin (and Bethesda) would benefit from a UCP Job Coach at her side as she learns new tasks and identifies appropriate adaptations.   He provided additional information needed for an employment decision to be made. Jared advocated for Caitlin highlighting her extraordinary work ethic and reliability as a volunteer for the last 10 years.  Jarred said, "Caitlin's smile lights up any room when she's in conversation. Her quality work is consistent, and she is very focused. She qualifies for competitive employment and UCP Heartland will get her a job somewhere and I'm sure we all prefer it's here."  Jarred reminded the employment partner that Caitlin would have a UCP Job Coach and the benefits to both Caitlin and Bethesda. She could take on more responsibilities as an employee, increasing departmental productivity.
In September, Caitlin began work officially as Data Entry Specialist. She already had a great relationship with her supervisor Pam, who knew her specific needs and unique communication style. Pam provides Caitlin excel sheets in extra-large print so she can read them more easily. Emily Whitaker has been her UCP Job Coach and reports that Caitlin now has her own office, has picked up new tasks and she even got the COVID vaccine last week.
Kudos to Bethesda. This was a customized position for Caitlin. It involved creativity, commitment, resources and faith.
Today, Caitlin needs job coaching less than 25% of her schedule.  UCP Heartland will continue to support her with employment retention services.  She enjoys her colleagues and the independence gained from successful employment.