May 2023
Dear Friends of UCP Heartland,
I hope everyone is well, healthy, safe, and enjoying the warmer weather.
One of UCP Heartland's programs is Employment Services, where we support individuals with disabilities in their goal of working in a competitive job in the community. Work is such an important part of our lives as it gives us meaning, purpose and can provide a sense of pride. Our UCP Heartland Employment team does an outstanding job of being client focused and supporting a person in finding the right job, but also providing the necessary support for the employee and employer to have a successful career. Richard Coleman, Director of Employment Services, and his team are always looking at ways to expand UCP Heartland's reach. I am excited to announce that we have been approved to be an Employment Services Plus-Brain Injury provider in central Missouri. We are grateful and proud to collaborate with Vocational Rehabilitation, the Department of Health and Senior Services, and the Department of Mental Health in providing these much-needed services. UCP Heartland is currently accepting referrals and we are excited to be the premier provider of choice to support individuals who live with a brain injury and want to be successful in their journey of working in the community. For more information about the service, please call (573) 761-7300.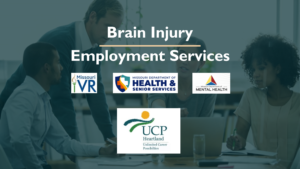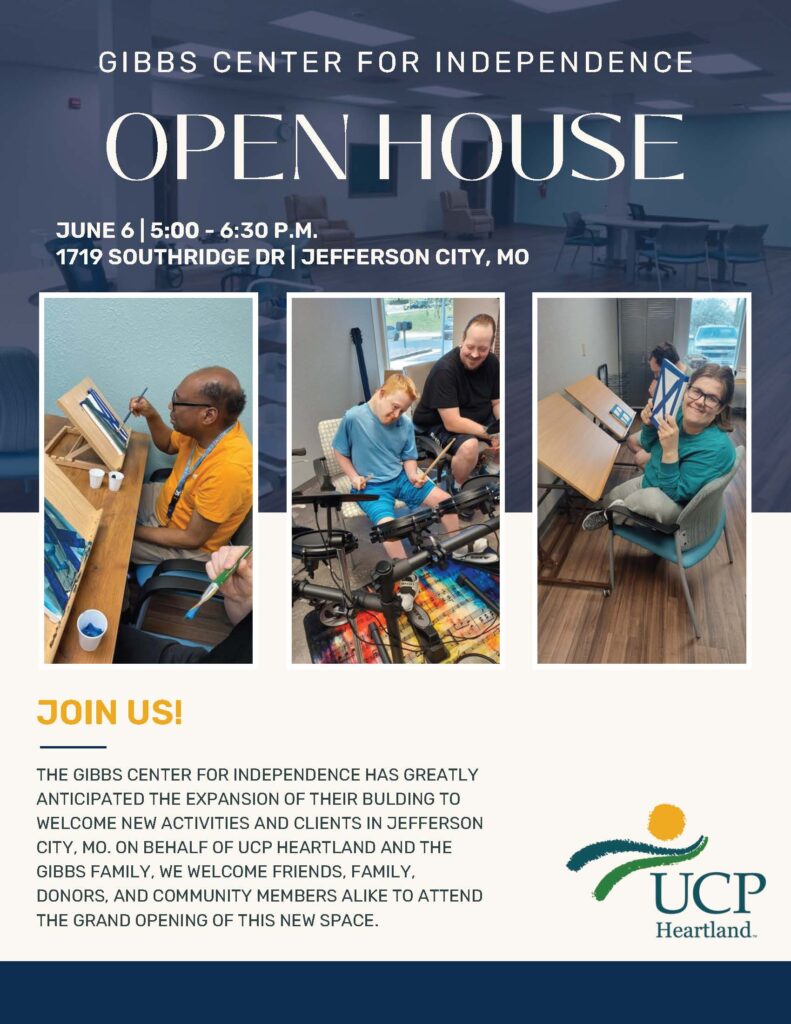 Gibbs Center for Independence Expansion
Speaking of expanding, UCP Heartland is so excited to show off our new and improved Gibbs Center for Independence space in Jefferson City. This additional 6500 square feet of renovated space will allow us to double our capacity of service and improve our offerings. We are hosting an open house on Tuesday, June 6, 2023, from 5:00 PM to 6:30 PM at 1719 Southridge Drive, Jefferson City, MO 65109. If you would like to attend, please RSVP to [email protected]. Come take a tour, help us celebrate the growth of space and programs, and thank the Gibbs Center team of staff for the incredible impact they make on a daily basis.
Give STL Day
I want to personally thank the St. Louis Community Foundation and all the wonderful St. Louis partners who participated in a very successful Give STL Day on May 10, 2023. UCP Heartland's goal for the 24-hour giving campaign was $5,000 and because of your support we raised $5,430. Thank you to Marilyn Amstutz, Matt Muccigrosso, and Siebert Insurance for being matching donors, providing inspiration and motivation to help us reach our goal. The St. Louis Community Foundation had a broadcast the evening of the 10th and Kevin Amstutz, UCP Heartland's Major Gift Officer, was invited to participate. Click here and scan over to 1:46:44 to listen to his interview. Thank you, St. Louis!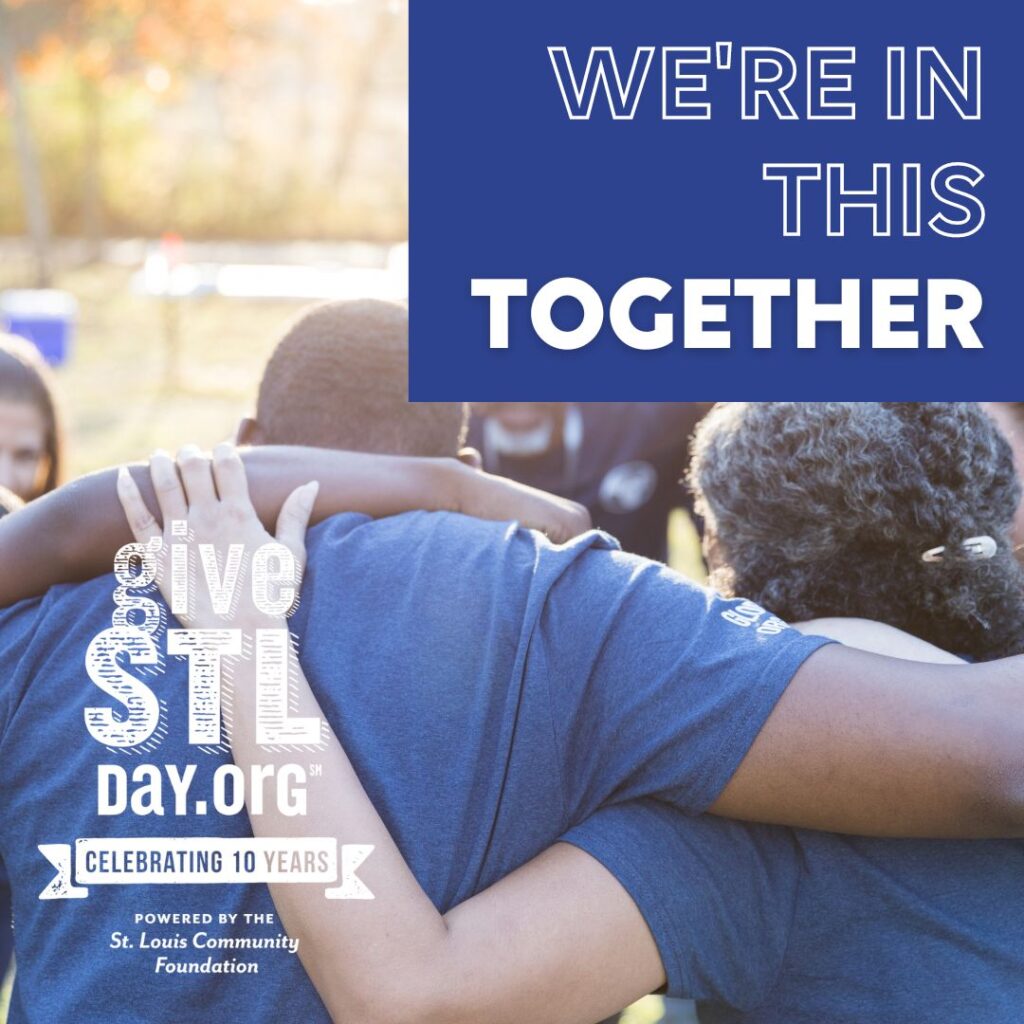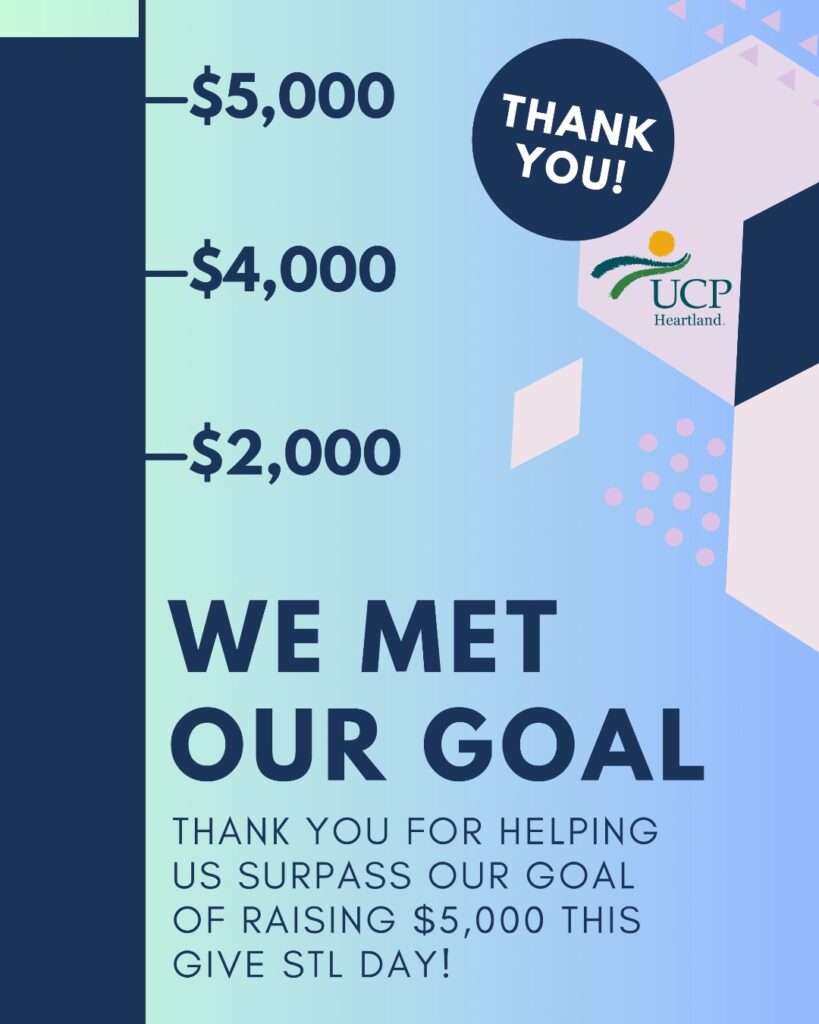 As always, I want to thank you for your interest, commitment, and support to UCP Heartland. If you have any questions, please don't hesitate to contact me.
Sincerely,

Clint Bolser
President and CEO
UCP Heartland
636.779.2252
Donor Difference
We are grateful for our loyal donors. With your kindness and generosity, UCP Heartland will continue to push for the social, legal, and technological changes that increase accessibility and independence, while providing the extraordinary care to children and adults living with differing abilities. Together, we can be a stronger voice in representing the needs and rights of people living with disabilities.
Diamond Heart: Meeker Trust; United Way of Greater St. Louis; Souers Charitable Trust; Hallie Gibbs
Gold Heart: PLB – St. Louis County; Triad Financial; Tums
Silver Heart: Industrial Warehouse & Distribution Group; Ron Netemeyer; Rusty Drewing Toyota; Philip Stump; Home Builder's Association; Anonymous; Gateway to Innovation; Scott Rozier; Joel Kaplan; Jeff Rayfield; Richard Chong; Brian & Elizabeth Hansen; Heart of Missouri United Way, Inc; 232 Downtown; Backues Estates; Cigna; CliftonLarsonAllen LLP; East Missouri Foundation; Farmco; The Georgia B. Ridder Foundation; GFI Digital; Mike Stuckenschneider; Modern Land Company; Rusty Drewing; Stifel
Bronze Heart: Clint & Stacy Bolser; Rich Fitzer; Bayer; Larry Kolb; Cody Stokes; Matthew Gassen; Jennifer Bierling; Bill Siedhoff; Mutual of America; Larry Neill; Joy Voss; Kevin Ortmeyer; Alter Trading; American Direct Marketing Resources; Andrew Kampeter; Central Bank of Jefferson City; Chase Ungs; Gibbs Pool & Turner; Jill Harper; Ken Theroff; Mark Tungesvik; Morris Packaging; Netsmart; Renewal by Andersen; RGA; Robert Goth; T.J. Wies Contracting; The Giving Branch; Trae Lorts; TSG Factory STL, LLC; US Machinery Moving, Inc; Valentine Family Foundation; Williams-Keepers LLC; Zac Wallace
Teal Heart: Kelli Williams; Doris Perry; Lesa Johnson; Microsoft; R B Kahn Trust; George Hunter; Jill Larsen; Ed Balmes; Boone Electric Community Trust; Dave Schilp; Christine & David Houston Charitable Gift Fund; Jefferson City Medical Group, PC; Kathi Harness; Jamey Shields; Jane Kaiser; Brian & Laura Murphy; Bala Vanukuru; Jacques Thro; ARCO; BAM Contracting; Christopher McCullough; City Wide Facility Solutions; Daniel & Henry; David Gordon; Edward Storey; Hoffmann Brothers; Jeffrey Simmons; Laura McCarthy Real Estate; Orscheln Industries Foundation; PNC; R.V. Wagner, Inc.; Roanoke Construction; Scott Calhoun; Ski Mariea; Tyler Beck; US Foods; Meena Liebert; Accent Group Solutions; Marilyn Amstutz; ROSCH Company; Harold Carter; Joe Beaubien; Robb Munson; Derek Garvin; Ruskin Adams; Kevin Buchek; Carola Gloyd; Thomas Hudson; Captial Region Medical Center; Finteris Wealth Management LLC; First State Community Bank; Harper, Evans, Wade, & Netemeyer; Hawthorn Bank; Jefferson Bank; KCI Construction; Krieger & Krieger Development CO, LLC; Marsh & McLennan Agency LLC; Mid America Bank; Tom Shimmens; UMB Bank; Wallace Architects, LLC; Winter-Dent; Facebook/Network for Good; Lori Burch; Sara Brunquell; Jon Dowd; Kelley Putnam; Kelly Wacker; Stephanie Lee; Rich Waigand; Kevin Litt; Brian Kiker; Derek Cinquemani; Jason Bean; Cory Block; Brenda Mainer; J.D. Kutter; Moneta Group; Taylor Mason; Heather Patek; Matt Kupferle; Alex Lee; Ashley Wilde; Beth Morris; Brian Zerr; Brinkmann Constructors; Brown & Crouppen P.C.; Cass Information Systems; Chaney Windows & Doors; Chris Ehase; Chris Wood; Dan Springman; Daniel Westhues; Dive Bomb Industries; Don Hiemenz; Don Perdue; Dowd Bennett LLP Fund; Drew Smith; Eric West; Everspring; First Bank; First Community Credit Union; Gemma Riley; Gibbons Workman LLC; Gloria Combs; Holland Construction Services, Inc.; ITF LLC; Jane M. Heimann-Kaiser Giving Fund; Jeffrey Patrick; Jennie Foucheaux; Jessica Forrest; Jim Luetkemeyer; John Ross; Judi Shipley; Kearney & Associates, LLC; Kozeny-Wagner, Inc.; Lashly & Baer; Lions Club of Webster Groves; RJ Meuth; Robert Robuck; Robert Scruggs; Robert Wankum; Rose International; RubinBrown; Ryan Henry; Scott Miller; Shadi Haddadin; Thomas Wolf; Tony Miller; United Access; United HealthCare Services, Inc.; Vermeer Midwest; Veterans United Home Loans
Previous communications from our CEO: