November 2023
Dear Friends of UCP Heartland,
On November 16, 1953, an inspiring journey began with a handful of families that wanted something different for their children and others that lived with Cerebral Palsy in the St. Louis area. Determination, focus, advocacy, education, sweat, tears, and never giving up from thousands of people along this journey is exactly why UCP Heartland, and most importantly the people we support, are thriving today. I believe learning, celebrating, and being inspired by the history and evolution of an organization is so important. We learn going outside the box and taking a risk is hard but where impact happens, we celebrate the initiative and the good of so many people supporting the continued advancement of people with differing abilities in our community, and it is my hope we all are inspired to do our part in carrying the torch to elevate the engagement, opportunities, and attention brought to the abilities of people rather than a person's disability. Thank you to Duane Gruis, UCP Heartland Client Advocate, and Jenna Schuermeyer, Director of Marketing and Events, for producing this inspiring video.
Congratulations UCP Heartland and thank you for trusting me to be a small part of this wonderful history!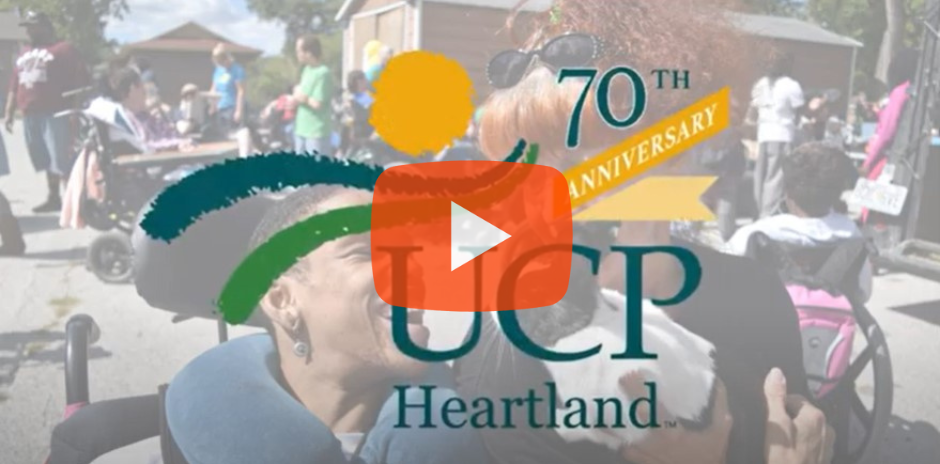 UCP Heartland wants to thank the Heart of Missouri United Way (Columbia, Missouri) for approving UCP Heartland to be a funded partner agency. Their funding commitment to invest in UCP Heartland Autism Therapy Services is a validation of the highly sought after early intervention therapy needed by children and families living with Autism. We are grateful for their belief in our quality services and the focus to meet the needs of all families seeking this type of service. If you are interested in learning more about UCP Heartland Autism Services in Central and St. Louis Missouri, please contact ShiQuita Lane, Vice President Children and Family Services at [email protected]

As we begin Thanksgiving week, I want to share how personally grateful I am for everyone reading this communication, communities we support, families and individuals who trust in our services, donors, funders, and all UCP Heartland constituents! 70 years of impact does not happen without all of you; we certainly don't take this for granted.
This is a season of giving and over the next month, many of us will choose to invest in impact and making positive change in people's lives. Over the next couple weeks, please look out for an inspiring story from UCP Heartland and I want to thank you in advance for your thoughtful end of the year gift to UCP Heartland.
As always, thank you for your continued support and do not hesitate to reach out if you have any questions or want more information about UCP Heartland.
Happy Thanksgiving,

Clint Bolser
President and CEO
UCP Heartland
636.779.2252
Donor Difference
We are grateful for our loyal donors. With your kindness and generosity, UCP Heartland will continue to push for the social, legal, and technological changes that increase accessibility and independence, while providing the extraordinary care to children and adults living with differing abilities. Together, we can be a stronger voice in representing the needs and rights of people living with disabilities.
Diamond Heart: United Way of Greater St. Louis; R B Kahn Trust; Hallie Gibbs
Gold Heart: PLB – St. Louis County
Silver Heart: Souers Charitable Trust; Home Builder's Association; Industrial Warehouse & Distribution Group; ROSCH Company; TUMS; Rich Fitzer; Gateway to Innovation; Rusty Drewing; United Way of Central Missouri
Bronze Heart: Larry Kolb; American Direct Marketing Resources (ADMR); Netsmart; Williams-Keepers; Corey & Paula Bauckes; Central Bank; Robert Goth; Grapevine Giving Foundation; Stan Koenigsfeld; Krieger & Krieger; Larry Neill; Rusty Drewing Toyota; US Machinery Moving Inc
Teal Heart: Heart of Missouri United Way, Inc.; George Hunter; Microsoft; Wendell Shorthose; Brian Zerr; Scott Calhoun; GFI Digital; Matt Moore; Beth Morris; Mutual of America; Orscheln Industries Foundation; Jen Schnieders; US Foods; Finteris Wealth Managment; David Gordon; Capitol Eye Care; First State Community Bank; Kathi Harness; Jefferson Bank; Kolb Properties; Wallace Architects; Winter-Dent; Clint Bolser; Lori Burch; Accent Group Solutions; Chaney Windows & Doors; Scott Drinkard; Caroline Gibbs; Andrew & Lauren Gillentine; Shadi Haddadin; Kendall Newton; Ryan Shorthose; Timothy Sigmund; Daniel & Henry; Ramon DeArmas; Everspring; Gibson Edge; Russell Goldammer; Jason & Erica Hughes; Sarah Joplin; James Luetkemeyer; Pro Food Systems, Inc.; Amanda Riley; Gemma Riley; Kevin Riley; Tory Smith; Success Brands; Ken Theroff; TSG Factory STL, LLC; Allen Walz
Previous communications from our CEO: