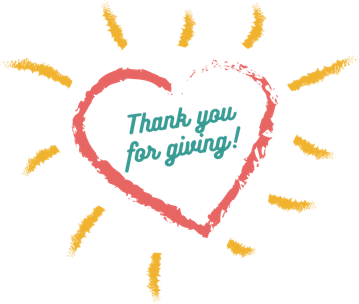 Employer Gift Matching
Check out if your employer matches gifts.

View A List of Matching Gift Companies
Annual Giving Circles
Volunteer your time and talents or sponsor or attend an event.
Tribute Gifts
You can memorialize or honor a special person by making a gift in their name.
NAP Tax Credits
You can receive Neighborhood Assistance Program tax credits for your donation.
Planned Giving
Your planned gift leaves a lasting impact in the lives of UCP Heartland participants.
Books
Learn about books that have a special UCP Heartland connection.
Volunteer
Volunteer your time and talents or sponsor or attend an event
Corporations often give money to non-profits in the form of employee matching gifts. This means if an employee donates to UCP Heartland, the employee's corporation will also donate money to UCP Heartland according to a predetermined match, usually 1:1. While these programs don't require much from you as the employee, the few minutes you spend submitting the matching gift forms can make a big difference in the lives of the people participating in UCP Heartland's programs.
How to Make a Matching Gift
Please contact your human resources department to see if your employer matches and for details on how to submit a matching gift request. If you have any questions or need any help with your matching gift, please contact Kevin Litt at [email protected].
ACG
AIG
Allianz Global Corporate & Specialty
The Amgen Foundation
Aon Foundation
AT&T Higher Education/Cultural
The Auto Club
Automatic Data Processing
AXA Foundation Matching Gifts Administration
Bank of America
Belden Inc.
Bituminous Insurance Companies
BlackRock
The Boeing
BP Matching Fund Programs
Brown Shoe Company, Inc.
Bunge North American Foundation Matching Gift
Burlington Northern Santa Fe
Cardinal Health
Cee Kay Supply, Inc.
Chevron Humankind
Chubb & Son
CNA Matching Gift Plan
Coca-Cola
Covidien Employee
Duke Realty Corporation
EADS North America
Eaton Corporation
Eli Lilly and Company
Elsevier
Emerson
Energizer
Equifax
Esse Health
Exxon Corporation
Follett Corporation m
Forest Laboratories, Inc.
Arthur J. Gallagher Foundation
Gallus Biopharmaceuticals
Gannett Foundation
Gateway EDI, Inc.
The GE Foundation
Genentech Employee Giving Program
GlassHouse Technologies, Inc.
GlaxoSmithKline
Grainger Matching Charitable Gifts Program
Henry Crown & Company
Hillshire Brands Matching Grants Program
The Home Depot Matching Gift Center
IBM Corp.
Illinois Tool Works
Invest in Others Charitable Foundation, Inc.
Ironshore
Johnson & Johnson
Johnson Controls Foundation
JPMorgan Matching Gift
Koch Development Co
The Kraft Foods
Laclede Group
Lincoln Financial Group Foundation, Inc.
Macy's Foundation
McGraw-Hill Companies, Inc.
Merck
Microsoft
The Millipore Foundation
MONSANTO Matching Gift Center
Morgan Stanley Annual Appeal & Charitable Spending Program
Neiman Marcus Group
Newfield Exploration Company
Northern Trust Corp. Matching Gift and Volunteer Grant Program
Novus International Inc.
Olin Corporation
Oracle Corporation
Pacific Life Foundation
PepsiCo Foundation
The Pfizer Foundation
PNC Foundation
The Prudential Foundation
Qualcomm Incorporated
Regions Financial Corporation
RGA
Rockwell Automation
SAP
Savvis
Schneider Electric/Square D Foundation
Charles Schwab Foundation Employee
Scottrade, Inc. Charitable Giving Program
Stauder Technologies
Takeda Pharmaceuticals North America
TCF Foundation
Thomson Reuters
U.S. Bank Foundation
U.S. Cellular
UBS Foundation USA
Union Pacific
Verizon Foundation
Western Union Foundation
For more information about UCP Heartland and your ways to give, please call our Development Office at 636-779-2282.