Provides job training and staff support to people with disabilities, assisting with job training, placement and retention.
The Employment Resources Department is designed to provide employment assistance (obtaining and maintaining competitive employment) within the community to individuals with severe physical and/or multiple disabilities or to those who have traditionally had difficulty in gaining or retaining employment due to other factors. Employment Services utilizes a variety of assessment, placement, and retention services. Recently, UCP Heartland entered into partnership to provide employment services to our military veteran men and women.
Employment Services possess several key features that distinguish it from other, more traditional approaches to job placement. The supported work model relies upon an individualized and comprehensive approach to job placement that proactively addresses frequently identified barriers to employment. Transportation, personal assistance, job site modification and job restructuring are considered on an individualized basis by the person being served and their Employment team. The team creates solutions and advocates for change on behalf of the individual. A successful placement is ensured when the team makes the best possible match between the individual's abilities and the demands of the local job market.
The primary referral source for services is The Missouri Department of Vocational Rehabilitation (VR) with additional referrals received from the Department of Mental Health (DMH). The program is able to support anyone who has been determined eligible for services from our funding partners, which may mean the person does not have a developmental disability. The Department's current service area is St. Louis County and City.
The UCP Heartland Employment Resources program helps people living with disabilities identify their skills and interests to achieve a job of their choice. The program provides support to help job candidates develop relationships with co-workers, create a support network and shape their careers. Employment Resources helps program participants work toward independence.
Program Participants Receive:
Discovery/Exploration – Involves working with the individual to determine and create a vocational profile identifying strengths, support needs, preferences and parameters that may impact employment. Funded by Vocational Rehabilitation (VR) and the Department of Mental Health (DMH) – this is typically an 8 week process.
Job Preparation – Involves assisting the individual in preparing for the world of work. This may involve on-site services that include social skills, resume development, interview skills, etc. or off-site through supported community volunteerism. These services are funded by the Department of Mental Health (DMH).
Job Development – Using the information obtained during the discovery/exploration or job preparation process, employment staff begins the job search. This involves contacting specific employers, creating resumes, completing applications, assisting with interviews, job negotiation, etc. These services are primarily funded by Vocational Rehabilitation (VR).
Job Coaching – Once a job is secured, employment staff will assist the individual with the arrangement of transportation services, job site modifications and assistive technology, and any new hire paperwork that is required, as needed. Employment staff then may work alongside the individual to provide systematic training on the job and related skills ensuring that the job requirements are being met during training. This includes the coordination and facilitation of communication between the newly employed person and their co-workers and supervisors. As the person gains independence within their new job, employment staff implements a plan to fade the amount of support provided. These services are funded by Vocational Rehabilitation (VR).
Follow Along or Job Retention – The purpose of job retention services is to assist persons served in maintaining (retaining) employment. Job retention services include a minimum of twice-monthly contact with either the employer and/or the persons served. Services fluctuate based upon the supports needed. The focus is on job satisfaction, job skill performance, appropriateness of assistive devices or job site modifications, continued career development and continued development of needed supports. These services are funded by the Productive Living Board (PLB) for St. Louis County Residents and the Developmental Disabilities Resource Board (DDR) for St. Louis City residents.
UCP Heartland's Talent Connect program helps people begin and maintain careers in the hotel and hospitality industry. Program participants learn industry-related skills, soft skills and how to navigate barriers to employment. The program helps employers in the industry connect with dedicated, talented employment prospects who are industry-trained and ready for long-term, meaningful employment.
Talent Connect is a training to employment program that assists individuals with disabilities to begin a career in the hotel and hospitality industry. The program is open to any individual with a disability who resides in the St. Louis metro area and has a desire to work in this industry. Training is designed to last for up to 12 weeks, with a focus on one specific job function. The goal of Talent Connect is to help individuals get hired in the industry- either at the training site or at another hotel/hospitality location. Since its inception in October 2014, 100% of Talent Connect trainees who successfully completed the program were offered a job at their training site! Click the link above to learn more!
Summer Work Experience Program (SWEP)
We are one of six agencies that collaborate to provide the program. The lead agency for the project is MERS/Goodwill – (314) 647-7453. The program is designed to offer high school students an opportunity to obtain work experience prior to graduation.
An active St. Louis Regional Center Case Manager (determines eligibility)
Be willing to commit (no vacation, summer school, etc.) to an 8 week/20 hours per week work program
Be between the ages of 16 and 20 and returning to school in the Fall
Have transportation to and from work
Reside in St. Louis County
The lead agency MERS/Goodwill, distributes initial application in the Fall to the Special School District (SSD). For consideration, applications must be returned by February 1. Participants are ordered by age with the oldest participants being given first consideration. Even if an application is received by February 1, it is still likely that some participants will be placed on the waiting list. Approximately 200 participants are served each summer by the collaboration.
Community Services North
4645 LaGuardia Drive
Berkeley, MO 63134
Gibbs Center for Independence
1719 Southridge Dr.
Jefferson City, MO 65109
For more information or to sign up, contact: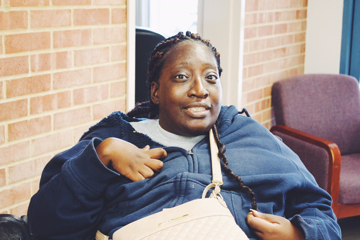 Launched a new employment program in Jefferson City

Immediately placed six clients in Jefferson City into employment

Graduated five program participants into employment at Lindenwood University in St. Charles County in first few months of 2018

Continue to place people into employment monthly
Employment Resources Talent Connect Programs
of consumers retain employment for at
least three months
of clients enroll in
job training, college
or V.O.C. training
of clients gain
knowledge about
community resources
of employed clients
increase income, assets
and savings