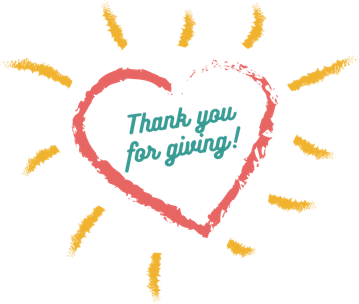 Employer Gift Matching
Check out if your employer matches gifts.
Annual Giving Circles
Volunteer your time and talents or sponsor or attend an event.
Tribute Gifts
You can memorialize or honor a special person by making a gift in their name.
NAP Tax Credits
You can receive Neighborhood Assistance Program tax credits for your donation.
Planned Giving
Your planned gift leaves a lasting impact in the lives of UCP Heartland participants.
Books
Learn about books that have a special UCP Heartland connection.
Volunteer
Volunteer your time and talents or sponsor or attend an event
Since 1953, UCP Heartland has provided caring services for people living with disabilities. Our mission has benefited from individuals, families and corporate philanthropic communities display compassion and generosity by giving time, talent and donations to support the children and adults in our programs.
Your support allows UCP Heartland to continue growing and innovating so we can offer the highest quality programs and services for people living with disabilities for years to come.
You can make a difference in the lives of the children and adults with disabilities we serve today by making a tax-deductible, charitable donation.
Donate By Mail or In Person
If you prefer to make a donation through the mail or by phone please contact us at:
UCP Heartland
4645 LaGuardia Drive
St. Louis, MO 63134
636-779-2269
Checks should be made out to UCP Heartland. When mailing check or cash, please include your name, address and daytime phone number so that we may send you an acknowledgement letter as a receipt for tax purposes. Please let us know if you prefer your donation to remain anonymous.
Donate When You Shop on Amazon
Using Smile.Amazon.Com is a simple and automatic way to support UCP Heartland. Every time you shop on Amazon 0.5% of your purchases will go to United Cerebral Palsy Heartland.
Log in and click on Your Account.
Click on Shopping Programs and Rentals.
Click on Change Your Charity.
Search for and select United Cerebral Palsy Heartland.

Thank you for your support of UCP Heartland!
Stories of Your Impact at Work