February is Black History Month!
Why is it important to set aside time for Black History month?
UCP Heartland is a culturally competent organization that believes in diversity, equity, and inclusion. Learning about Black history moments and milestones gives us a deeper understanding of the issues we face in the United States; many of which continue to be unresolved. Ongoing learning enriches our lives and causes us to reflect, which creates the opening and opportunity to strengthen our relationships and foster appreciation for our varied perspectives and collective uniqueness.
Now that you understand why it is important to celebrate Black History Month, you may be wondering how you may go about doing so. Each year, the Association for the Study of African American Life and History chooses a Black History Month theme, which has been a tradition since 1926. This year's theme is Black Health and Wellness. Below you will find ways to acknowledge Black History Month.
Seeing opportunities in perceived challenges is a matter of perspective/mindset.
While managing disorders from childhood that impacted Amanda's communication, she was named the youth poet laureate of Los Angeles at age 14. Amanda further overcame her life challenges by becoming the first-ever U.S. National Youth Poet Laureate, in addition to graduating cum laude from Harvard. Amanda recited the spoken word poem, "The Hill We Climb," at President Joe Biden's Inauguration in January 2021.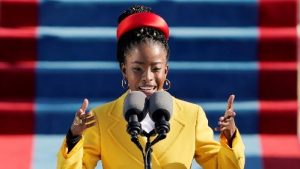 Amanda S. C. Gorman – American Poet & Activist